---
Attractions in Nyeri County
34. Outspan Hotel
Outspan Hotel with appreciable views of Mount Kenya, lovely grounds, tennis, squash, swimming pool, trout fishing and riding is an ideal base for travellers visiting Central Kenya. Specially reduced packages are offered to those visiting Outspan and the Treetops on consecutive terms. It is also head and shoulders above the rest of the watering-holes in Nyeri Town. It offers a holiday-stay for a weekend or longer in one of the oldest and prevailing hotels in Nyeri. Outspan dates back to the 1920s, when Major Eric Sherbrooke Walker and his wife, Lady Bettie, chose the perfect spot between the Aberdare Range and Mount Kenya to build their dream retreat. Today, it has 45 rooms, of a colonial architecture, set up 20 acres. A tour around the property takes one to some sites of interest that include; their multi-cultural village depicting the traditional life of the Bantus Tribes living around Mount Kenya (the Ameru, Aembu, Ambere, Agikuyu and Akamba), a cherished 501 year old Mugumo tree, Chania River and, of course, the Paxtu Museum. It is located 1 km past Nyeri Club along Baden Powell Road.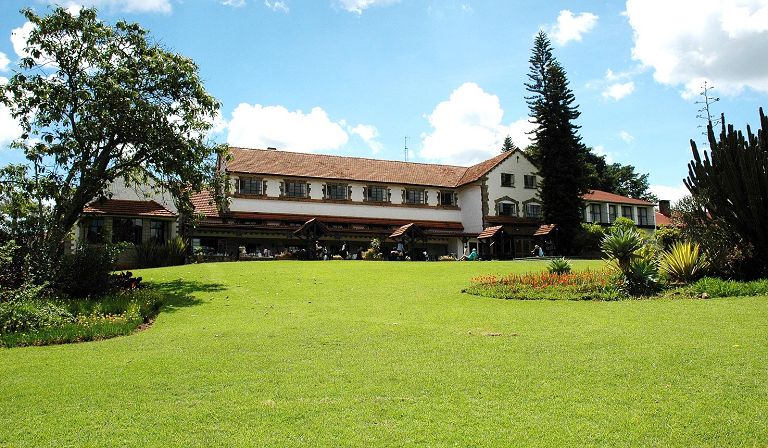 35. Paxtu House
Set in the lovely grounds of Outspan Hotel, this modest, two bedrooms cottage-style house with views of Mount Kenya was a residence for Baden Powell, best-known as the founder of Scout Movement and author of the best-seller Aids to Scouting. Robert Stephenson Smyth Baden-Powell spent his grey years of life here, between 1938 to 1941. It was no coincidence that he stayed at Outspan. After graduating in 1908, Sherbrooke Walker was associated with the Scouting Movement, and was a personal secretary to Robert Baden-Powell. He was one of its two first Scout inspectors, overseeing Wales and the South of England. He was also present at Baden-Powell's initial Scout camp in Humshaugh in 1908, and toured Canada with sixteen Scouts in 1910 to demonstrate Scouting. Since his death on January 8, 1941, this abode has been on the bucket list for many a scout. Inside Paxtu House there are innumerable tributes and memorabilia left behind by scouts from almost every country. The Golden Book, an autograph by visiting scouts, is particularly engaging. In accordance to their family's wishes, Baden-Powell and Lady Olive Baden-Powell were buried at the Nyeri Cemetery.
36. Zaina Falls
3 kms from Outspan Hotel through Kamakwa one arrives at Kamuyu, the jump-off to Zaina Falls found at Chania Village in Kinunga. This is, perhaps, the most deserving walking trail in Nyeri, described as an arcade of incredible grandeur. Until a few years ago, the walk through this sparsely inhabited backwoods was one of an overall impression of an idyllic wild with the water from Chania River, cutting through the Gakanga Valley and Zaina Forest, perfectly safe to drink. Still and all, the landscape here is a most impressive one. It takes on average 5-6 hours (round-trip) to explore the Zaina Falls, on a roller-coaster trail down a steep slope to the valley, with an alternating climb crossing Chania River along the way, before arriving at the Falls. The pretty as a picture falls in an unsullied ever-green alpine montane and worth all the difficulties of getting there. Just 5 kms from Zaina Falls the trail terminates at the fenced boundary of Aberdare National Park. A visit to the Zaina Falls should be planned in good weather, to avoid the rainy months of April, May, August and October. Obvious perhaps, is to carry plenty of drinking water (with refreshments) and to wear sturdy shoes.
37. Mboi Farm Homestay
Also found in this neck of the woods around Kinunga is the commodious three-bedrooms Mboi Farm House. This welcoming and homely old-world house, set in the bucolic countryside at the footslopes of the Aberdare Range, offers a well-rounded and genuine rural experience outside the kosher of hotels. The whole area is a joy to explore, and at the very least the impressive Zaina Falls in within striking distance of a lazy afternoon walk. Guests can also take part in the usual calisthenics of tea or coffee picking and visit the nearby collection centres. To disentangle the weariness of a hard day's toil, there are the bog-standard games of soccer and volleyball unfailingly enjoyed by the locals at dusk. Evenings are sentimentally family-time and guests also take part in the preparation of meals, with the option of washing it down with traditionally honey brewed wine. Mboi is located 12 kms from Nyeri town via Nyeri-Kamakwa-Kamuyu-Kinunga Road.
38. Wambugu Apple Farm
Not to be confused with Wambugu Agriculture Training Centre outside Nyeri Town, this latter-day farm in the Heni area of Tetu is a specialist in apples and a passion turned into profit by owner Peter Wambugu, after whom the Wambugu Apple was named after. So far, Peter has created eight varieties, which he grows on his 20-acre farm at Ihwa Village nestled between Kinunga and Ihururu Hills in Nyeri County. The turning point for the thriving farm came when Wambugu effectually grafted regular apples with the little-known exotic varieties found in the orchards deep within Aberdare Forest. Much of his success comes from the fact that 'Wambugu Apples' yield more and are comparatively resilient – "I was always fascinated by apples. They are nutritious yet expensive because most of them are imported from South Africa or Israel. I always wondered why we did not grow our own local varieties, yet the region is opportune?" Peter Wambugu.
39. The Trout Valley
At Ihwa, close to the Ihwa Primary School and Chania Shopping Centre, 2 kms from Kinunga, there's a choice to revel in one of Nyeri's latest alternative tour sites. Trout Valley as the name suggests is reaches by a steep road to the bottom of a valley where the trout farm is set, looking out to the Aberdares. The pretty Range is sacred to the Agikuyu People. It was there that the Mau Mau Fighters took refuge in the time of war against the British Empire, and there that they waged their resistance to disagreeable colonial land policies which was a symbol of the regime. For all that, the valley offers unmatched serenity and tranquility. The Chania River, running at the edge of the farm, is an added charm. The trout farm itself, consisted of five large ponds hosting more than 8000 fingerlings, is the key attraction and its trout dishes are the star here. It offers a great setting to enjoy a long lunch, and drinks from its fully-stocked bar. A footpath leads to up the valley and outwith, along which visitors can enjoy floricky walks through the sights of the region like Zaina Falls. It is open daily from 9:00 am till late. It may be important to take note that this area gets chilly and cold in the evening.