---
How Kenya is Dealing with Climate Change
---
Peneplained landscapes characterize a very large area of Kenya, and in general East Africa. Vast wide-open plains of flat country continue unbroken to distant horizons, and may account for the landscape of as much as half of Kenya. Most of the heavily populated areas are found away from these arid plains in Baringo, Garissa, Isiolo, Kajiado, Kitui, Laikipia, Marsabit, Samburu, Tana River, Wajir, Turkana and West Pokot, which are the large Counties of Kenya. Chalbi Desert, which sits in Marsabit County, is one of few examples of a true desert in Eastern Africa. The Chalbi is entirely without surface water, and has no rivers. Which is why, almost 70% of Kenya's population live in the grouping of small counties in Central Kenya, in Kiambu, Nairobi, Nyeri, Meru, Embu, Kirinyaga, Muranga which culminate in Mount Kenya – Kenya's highest, and in Western Kenya, in Bomet, Bungoma, Kericho, Kakamega, Trans Nzoia, Uasin Gishu, Migori, Siaya culminating in Mount Elgon – Kenya's 2nd Highest. These plateuas have been interrupted by smaller mountains whose creation is associated with Rift Valley.​ The Great Rift Valley System of Kenya and East Africa, with its steep inward-facing escarpment and relatively flat valley floor and lakes is so widely-written about as to warrant no introduction here. Of course, the Rift Valley is such a dominant feature in Kenya that anyone who has ventured a little distance from their village must have encountered it. Correspondingly, the Great Rift Valley Systems of Lakes are recognized as one of Kenya's 7 UNESCO World Heritage Sites. The striking and extraordinary sights of the Rift Valley are prominent in Narok, Kajiado, Nakuru, Elgeyo Marakwet, Baringo and Turkana. Lastly, is the coastal landscape of Kenya. Taita Taveta, Kwale, Mombasa, Kilifi and Lamu fall under this listing, and all but Taita Taveta share Kenya's 512 kms coastline belt.​
---
Climate Change in Kenya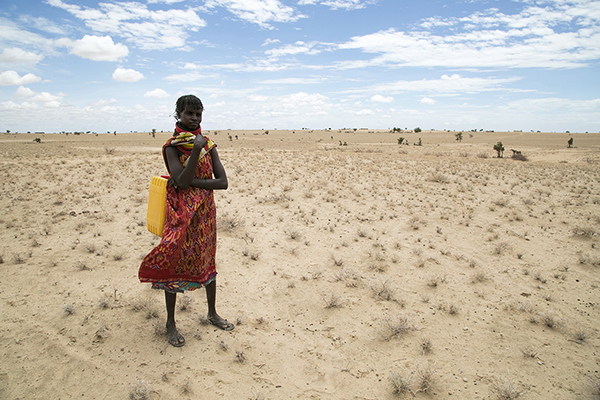 Kenya's somewhat long-standing upheaval with climate change comes at a time when droughts have become more frequent and dreadful, especially since 2000. The latest turmoil faced by the millions living in the forbidding semi-arid areas of the country utterly devastating man and livestock, prompting governmental and international agencies to send and distribute emergency relief, at the last to avert a full-blown humanitarian crises. There's no quick way to fix the country's adverse climate change patterns. But the responsible authorities can, at least, avoid making matters worse. The latest alarm follows the repeated forest fires around Mount Kenya and the Tsavo National Parks, whose frequency has locals worried of the impending woes. For the activists, the response appears more of a wait and see game, which could trigger even deadlier calamities and force very intrusive counter-measures. The gamble may fail. How is Kenya to respond to climate change? The Met Department has indicated that widespread warming has been observed in Kenya since 1960. A decline in precipitation has also been observed for the period between 1960 and 2003, although the data is limited. If that were not enough to go by, Kenya has experienced intense flooding every year since 2000, as well as an increase in extreme weather like the diminishing glaciers around Mount Kenya, leading to the drying up of river streams. "Such dire changes have already led to harvest losses and food shortages, as well as landslides, soil degradation and a loss of biodiversity. Pests for humans, plants and animals are also increasing. Fewer cold days and nights is contributing to the spread of malaria to new areas. The diminishing water sources and erratic rainfalls have also reduced the availability of water. These trends have negative impacts on child survival and development through rising childhood exposure to disease and reducing access to safe water for children and families" UNICEF.
---
Kenya's Efforts to Mitigate Climate Change
Granted that almost eighty percent of Kenya is classified as arid or semi-arid, the effects of adverse climate change through increased temperatures, erratic rainfall and drought are a cause for national alarm. "People struggle to engage with climate change because they perceive it as distant: temporally, socially or geographically". Lucky for Kenya, there have been significant changes, both by the Government and public sectors, to mitigate the effects of climate change. In April of 2010, the Government of Kenya unveiled the "National Climate Change Response Strategy", a robust piece of legislature that is both a stop-gap measure to downturn root causes of climate and an incentive for innovative approaches to go-green. It is important to note that this is the first comprehensive national strategy developed and dedicated to address threats posed by climate change as well as to create awareness of merits that arise. Moreover, the National Climate Change Action Plan rolled out on March 27, 2013, addresses the options for a low-carbon climate resilient development pathway as Kenya adapts to climate impacts and mitigates growing emissions. In April of 2016, Kenya signed the Paris Agreement and has solemnly started the process of 'domestic ratification'.
Equally impressive in Kenya's efforts to mitigate climate change was the iron-fisted ban on plastics legalised on August 28th, 2017, in what many outsiders consider as the world's most draconian plastic bag ban. Contrary to outsiders concerns, on the use of plastics attracting the world's stiffest fines, the ban was welcomed and adopted by every nature-loving Kenyan with zeal and avidity. The effects were almost instantaneous especially in Nairobi where the eyesore waste plastic was filled to overflowing in the city dumpsites and rivers. "A year after Kenya announced the world's toughest ban on plastic bags, and eight months after it was introduced, the authorities are claiming victory – so much so that other east African nations Uganda, Tanzania, Burundi and South Sudan are considering following suit" – The Guardian. Post the June 2020 ban, and following a presidential directive, all plastic products were banned in Kenya's National Parks, beaches, forests and conservation areas, which means visitors will no longer be able to carry plastic water bottles, cups, disposable plates, cutlery or straws into these protected areas. This extends to the guest-facing establishments within the jurisdiction covered by the ban. Another imperative anecdote in the Kenya's fight against climate change is the rather ambitious but achievable millenium-goal of being powered entirely by 'green energy' by 2020.
Continue Reading…