---
Attractions in Trans Nzoia County
6. Ngwarisha Cave
Midway between Endebess Bluff and Chepanyalil Cave lies the Ngwarisha Cave. At about 150 ms deep it's the third largest cave after Macking'eny (250 ms) and Kitum (165 ms). All fives caves on the eastern flanks of Mount Elgon (an early Miocene stratovolcano) are of debatable origin. Here too, the cave loft is that of sodium-rich salts, dense cap rock, over which a waterfalls temporarily forms in the rainy season, and soft swelling clay-tuff. Geogaphy by elephants and other species and human mining have significantly modified and enlarged this cave; as well as the other caves at Mount Elgon National Park. The "elephant caves" of Mount Elgon burst into the limelight in the late 19th Century (1885) when geologist Joseph J. Thomson first described them to the world although they were well-known to the native people for centuries before that. Ever since, they have been a source of controversy to scientists. Thomson himself was unable to decide if the caves were of natural or human origin. In 1918, Hobley developed a theory of natural cave origin involving a postulated lake, but Oswald (1918) dismissed this theory, preferring instead an origin by percolation dissolution. In 1958 Oswald's theory was taken up by Ollier and Harrop who gave additional observation supporting percolation dissolution, and in 1961 a phreatic half-tube origin was reported by Wrightt. Nevertheless, the matter has never been settled.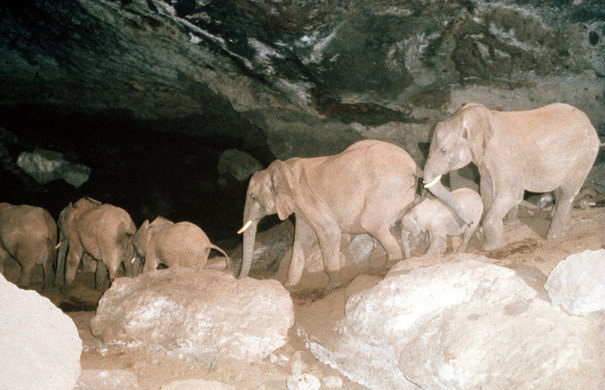 7. Chepnyalil Cave
The five cave at Mount Elgon National Parks are spatially distributed in a linear progression with Kitum in the south and Chepnyalil as the northernmost. Four of these caves are at roughly the same elevation, 2400 ms, and Ngwarisha Cave is 100 ms higher. Chepnyalil Cave is veiled about in overgrown wait-a-bit bushy thickets but is accessible year round. It is reached by way of the parkroad about 500 ms north of the little-travelled Kiptoro Cave – a 10 ms deep cave which is basically an extended rock shelter. Chepnyalil is a small, wide cave, 26 ms deep and 54 ms wide. It is associated with surface water streams and thought to be originated behind a historical waterfall. Having said that, there is no evidence of chanelled water flow inside this or the other four caves at Mount Elgon, even after heavy rain. The caves are surprisingly dry inside. The ceiling of this cave is too high for elephants to access thus tusking and animal activity is restricted to the entrance of the cave. Ngwarisha, Kiptoro and Chepnyalil have some of the best evidence of human activities. Anthropologists estimate that Chepnyalil in particular was occupied +90 years ago, and the walls and roof show lots of soot.
8. KWS Bandas
Kenya Wildlife Service owns and maintains about two dozen budget-friendly cottages and bandas across Kenya's National Game Parks and, oftentimes, the locations of these bandas are top-drawer.  In Trans Nzoia County KWS operates Koitoboss Guest House and Kapkuro Cottage, both located at the footslopes of the tremendous Mount Elgon. KWS Bandas are the perfect launching-point for exploits centered around Mount Elgon National Park.  The reasonably priced KWS Bandas can be accessed through Chorlim Gate, just 30 kms west of Kitale.
9. Mount Elgon Lodge
Also known Chorlim Wildlife Lodge, this stack and rounded brick holding with a distinctive white washed exterior and the signature lawns and gardens was, at conception, the residence for Buster J. Powles, a settler farmer between 1928 to 1961, before it was refurbished into a 10-rooms guest house.  Set near Chorlim Gate to Mount Elgon National Park, this lodge is a great base for mountaineers aspiring to ascend the Koitoboss Peak. Aside from its antiquated Victorian style architecture, Mount Elgon Lodge is a welcome thrill for history buffs interested in understanding the colonial history in Kenya. It is located 30 kms from Kitale.
10. Suam Gorge
Suam Gorge is a short, narrow, steep-sided section of a stream valley marking the boundary between Kenya and Uganda and within Mount Elgon Ecosystem. The 10 kms wide Suam Gorge is enclosed on either side by steep crags formed from centuries of erosion. The starting-point to Suam Gorge is about 5 kms from Mount Elgon Lodge. Commencing near Suam, just over the boundary with Uganda, the trail follows the Suam River through a steep and spectacular back-country and past hot-spring on the eastern side of the caldera. The Suam route is a rarely used route that's on average a 5 day trek starting at a higher elevation than Sasa Route. It spurs through Suam Gorge along the Kenya-Uganda border.
11. Kamariny Cave
Surprisingly untravelled, Kamariny Cave found just 7 kms from Endebess Town has historically been an important cultural shrine for subsequent generations of local communities in Trans Nzoia County.  Quite wondrous, made up of various compartments, clout with a lengthy history as a refuge for wildlife, some of its sections still hold remains of atavistic bones whose origins are largely disputed.  Some say that these bones trapped inside are an indication that the cave might have collapsed. Kamariny Cave offers a thrilling weekend adventure and can be scouted in an hours walking adventure.  There is also a modest falls found near the cliff of the cave and a natural dam located deep within Kamariny Cave. It is also referred to locally as the Kapsetany Community Cave, or as Endebess Cave.