---
Attractions in Baringo County
7. Loboi Plains
Crossing the peripheral stretch of Loboi Plains, between Lake Bogoria and Lake Baringo, it's canny to keep an eye on the Laikipia Escarpment or eastern wall of Rift Valley, seen to the far east and which begins to stretch away further as you close in on Lake Baringo, as it marches north to Lake Logipi. The spellbinding Loboi Plains, which is a 22 kms long and 20 kms wide unvarying plain, on the floor of the Rift Valley, is the surface drainage for the two lakes. It was once part of the roomy Lake Kamasia which dwindled to form Lakes Baringo and Bogoria. Enchantingly, Lake Baringo has held as a freshwater lake for several centuries in so much as Lake Bogoria has been salty and alkali, covered by the lacustrine salt deposits. According to local traditions, the spirit of their traditional deities keep these 'waters' side-wise. In fact, the enthusiastic local guides can take you to the exact place these 'waters' separate. Some other places of interest include Loboi Swamp found at the northern fringes of Lake Bogoria, the warm springs seen at Lake Bogoria's mid-west, and Chelaba Springs found near Lake Baringo.
8. Irong Community Conservancy
This is Baringo County's newest Wildlife Conservancy. It spreads over 51 square kilometres northeast of Lake Bogoria National Reserve, atop the well-appointed Irong Hill, and it was created in 2008 when communities in Kapkuikui, Loboi, Kamar and Kaibosoi, in Mochongoi and Emining wards in Marigat and Mogotio Sub-counties, set aside the area as community land. Irong itself is part of three conservancies – along with Kiborgoch and Chuine Community Conservancies – covering a total of 145 square kilometres that have received direct support of Kshs 2.5 to 3 million each to implement priority projects, from KWCA, which serves as a strategic partner to develop their governance, financial management capacities and provide technical support. Irong is approachable from Marigat by a 20 km drive on B4 Nakuru-Sigor Road and then a short ride of about 5 km, through Kaptim. The Irong Hill, from which the Conservancy takes its name, is one the significant highlights, overlooking the drainage and ecosystem of Lake Bogoria National Reserve and Perkerra Irrigation Scheme. Irong Community Conservancy and Kiborgoch wetland conservancy cover two distinct habitats, a gradient sloping from the top of the culturally revered Irong Hill to the wetland, both forming a vital livestock grazing and watering area reserved by community elders for communal use. The wetlands' vital role is to retain and moderate the flow of water from the neighbouring rivers. Irong, and especially within its forested areas, is home to a variety of wildlife, ergo part of the reasons for its formation was to safeguard the migratory corridor for the Greater Kudu as well as provide a safe habitat for their growth. Others species sighted here include dik dik, hyrax, waterbuck, zebra, sitatunga, hippo and more than 45 bird specie.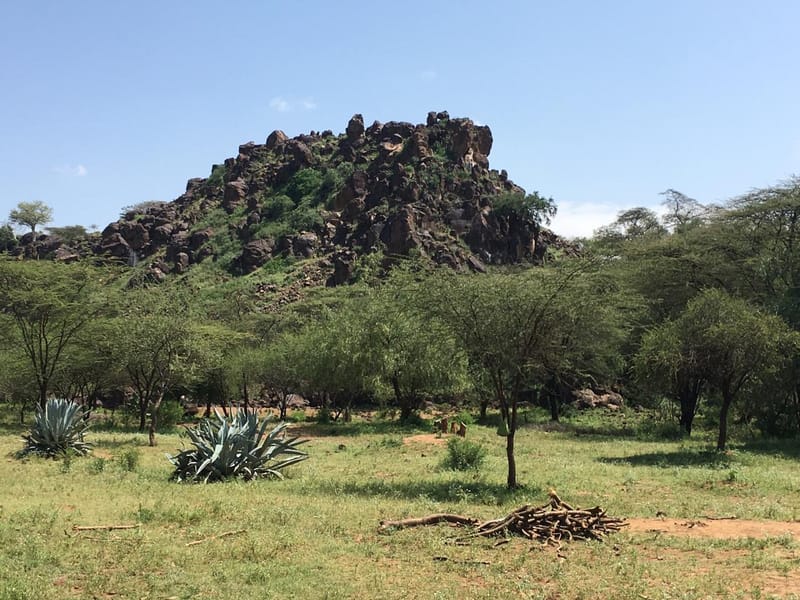 9. Chuine Community Conservancy
Further north lies the Chuine Community Conservancy which overlooks Sandai and stretching above Laikipia Escarpment forming a border with the proposed Arabal Conservancy. The grass and shrubs in the conservancy are preserved for livestock grazing during dry seasons, while the acacia trees provide good pollen and nectar for honey producing bees. According to a biosphere survey carried out on spatial variation in value of ecosystem services, Chuine was rated second only after Lake Bogoria National Reserve on ecosystem and biodiversity. It's an oofy haven for biodiversity research, a breeding site for the greater Kudu, and a migratory corridor for wildlife from Laikipia to Lake Bogoria National Reserve.
10. Laikipia Escarpment
The unbroken landscape of Loboi Plains, bathed in the warm glow of the sun, mirrors the beautiful golden savannas of Laikipia, which also results from the development of the East African Rift Valley. Best seen to the east of the Loboi Plains, the Laikipia Escarpment, which is conspicuous as the land surface sinks sharply in a chain of fault steps, marks the unofficial boundary between these contiguous landscapes and it's the landmark boundary of Baringo with Laikipia.
11. Perkerra Irrigation Scheme
Rolled out in 1954, to harness water from the Perkerra River for irrigation, the 5850-acres Perkerra Irrigation Scheme nearby Marigat Centre was among the pioneer irrigation projects set up in Kenya. Still underutilized, only 2500-acres are seasonally put under cultivation. Perkerra River which rises from the almost circular Lembus Forest, north of Eldama Ravine, and which is conjoined by the Chemususu River a few kilometres downstream, is one of two perennial rivers that flow on the eastern and southern areas of Baringo. It is a vital lifeline. All other rivers are seasonal and flow for only a few days or hours after rain, though in the larger ones, like the Ainapno and Sabur, water can be obtained for most of the year by digging a few feet down into the river beds. Part of the early objectives of this novel irrigation project – which also included Mwea, Bura and Kano – was to provide rehabilitation for Mau Mau detainees through Kenya's struggle for independence. From Perkerra, the river flows in a steep-sided gorge until it debouches on to the Loboi Plains. It is located 62 kms north of Mogotio.
Near Marigat is the Perkerra Irrigation Scheme, where the waters of the Perkerra River have been diverted to irrigate large areas of the fertile but barren flats of the ancient Lake Kamasia. Irrigation's not new here, the local Njemp having practiced it long before European settlement although until the start of this scheme the craft had been almost forgotten.
12. Lake Baringo National Reserve
The 101 km2 Lake Baringo, 25 kms north of Lake Bogoria, well-known for its dazzling diversity of birdlife and its engrossing beauty, was once described by John W. Gregory (British geologist & explorer) as the most beautiful view seen in Africa. Its fresh nature is mainly due to the fact that it has a submarine outlet discharging water northwards to Kapedo, and also that it accrues great quantities of fresh water from its inflowing rivers. Lake Baringo, fed by the Rivers Molo, Perkerra and Ol Arabel, has 13 islands, each holding a unique beauty and mystery. It's possible to visit at least seven of these islands: Lokoros, Rongena, Lengai, Devil's Island, Samatian, Ol kokwe and Parmolos – on an afternoon's adventure by means of motorized hop-on hop-off boat taxis. Adventure-makers whose only aim is to enjoy the aesthetics and serenity of the lake can take shorter trips aboard the tradition ambach boats popularly used by the Njemp, Tugen and Pokot anglers. Unique to Lake Baringo is the overt, undeviating, and monotonous shrubland. Prosopis, a perennial thorny shrub native to the Americas, was introduced here in the 1980's by Government of Kenya with financial backing from the Food and Agricultural Organization (FAO). It was intended to ensure self-sufficiency in wood products, make the environment habitable and also to safeguard the existing natural vegetation from over exploitation. In kindred regions around the world where it has been introduced, there have been many benefits, however, at Baringo, especially around Lake Baringo, it became invasive and it has been of little use. Lake Baringo N.R's other unique facet is a wonder located high above the cliffs. The basalt cliffs of Lake Baringo are famous among bird-lovers as one of few places in Kenya to spot the rare Verreaux's eagles, also known the African black eagle. "The cliffs of Baringo are their favourite haunt because these birds of prey are among the most prey-specific of any avian predator, hunting for rock hyrax, the close kin of the elephant" – Rupi Mangat. It is located 21 kms from Marigat.
Continue Reading…
---
Baringo County Map